! Versión inglesa por el momento !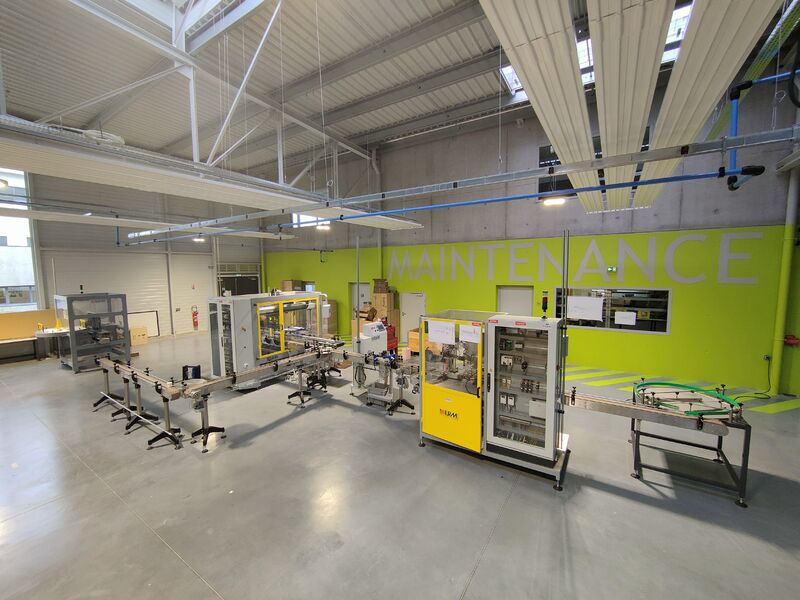 Automated production, packaging and palletizing line, multi-product and multi-format
Teams from ERM Automatismes visited the Fab'academy at the UIMM Maine-et-Loire training centre in Angers. They installed a complete Ermaflex line.
ErmaFlex is an automated multi-product and multi-format manufacturing, packaging and palletising line. It comprises autonomous, modular systems that can operate separately.
ErmaFlex line composition
The ErmaFlex training line at Angers is equipped with the following systems:
Rotary table: to feed the Polyprod or dispenser conveyor with jars/flasks.
Polyprod: an automated system for dosing liquid, pasty, semi-pasty or granulated products into jars/flasks and capping the jars/flasks.
Weight control: This checks the weight of packaged products and ejects non-compliant jars/vials.
Collating and case packing: for packing items into cartons.
A robotic cell: Built around a Kuka robot, it packs the various components.
A case packer: to pack the various trays into large cartons.
A palletising unit: Built around a Kuka robot, this positions the cartons on the pallets.
Multitec: for stacking and destacking pallets.
The ErmaFlex line can be adapted to a wide range of problems in all sectors of production activity. It can be used for a variety of products, including granules, liquids and semi-pastes, and is available in a range of formats: jars, bottles, cartons and trays.
Its instant start-up makes it easy to prepare for operations.